Food Safety in the Home Garden
Find this article at:
go.ncsu.edu/readext?685561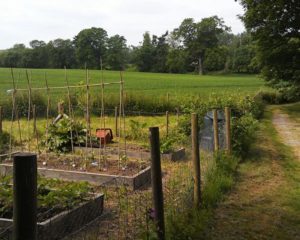 (Don Boekelheide  CC BY – 4.0)
Make sure you're getting the best benefits of a home garden by keeping the following food safety tips in mind:
Site the garden in a safe spot. Consider prior site use and avoid areas that may flood easily.
Always follow fertilizer and pesticide labels. This applies to both conventional and organic products. Wear appropriate personal protective equipment, and store materials carefully.
Wash hands with soap and water before and after working in the garden. This is the best way to reduce the number of potentially harmful microorganisms. You can also use disposable single-use gloves.
For irrigation, use a regulated, treated water source, or have the water tested to ensure it meets drinking water standards.
Manage compost with food safety in mind. Locate compost bins downhill and as far from the garden as possible.
Avoid using manure or fertilizers made with sewage sludge or bio-solids.
Keep animals out with fencing. Animals can also be discouraged by keeping the garden clean and free of weeds and trash, and harvesting regularly.
Sanitize tools and harvesting equipment.
For more information on food safety in the garden, contact Area Horticulture Agent Katy Shook at (252) 482-6585.